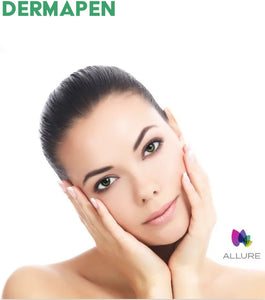 What is included:
Derma Pen (digital device)
Sample of Derma Pen cartridges
Training Manual
Theory & Practical assessments
Sign Off & Certification
Consultation & Aftercare forms
Student discount off future services
For a standard skin rejuvenation treatment, the Vitamin C Oil would will deliver up to 50 treatments at an average treat cost of £50 will give a return value of up to £3000.
Why complete the Derma Pen/Micro Needling course?
A Derma Pen is a small device that resembles a pen and is generally used for Micro Needling on people with skin issues and the end product is a tightened, rejuvenated and glowing skin.  
Derma Pen has 12 needles on the very tip and these 12 needles are the ones that are used to puncture the top layer of the skin as the Derma Pen glides over the area being treated.  
Usually, the Derma Pen will be positioned vertically over the skin and when it is turned on, a motor that is found inside the pen will start making the needles to move rapidly back and forth on the skin surface creating the punctures and these needles have been created in such a way that they can rotate in a slight way.  
These punctures created in the process are usually aimed at opening up the pores for a period of time only. 
Derma Pen is used mostly for face wrinkles, scars, stretch marks and facial lines. When one is injured and the skin forms a scar, or if they have a stretch mark the body will treat these as though that area was repaired.  
Therefore having the punctures created in the scar tissue will cause the skin to initiate healing and, therefore, the damaged skin will tend to get eliminated and replaced with new skin. For wrinkles and face lines, basically, the produced collagen and elastin will cause the skin to thicken and also tighten leaving the skin looking youthful.
Why Choose Allure? 
To date we have trained 1000's of students and have received two awards for "Training Centre of Excellence" so you know you're in safe hands. 
Our training material has been written to provide the best experience for our students and we only use natural skincare products throughout our training. 
Our students start their training by completing the theory modules at home along with a home study test, this makes the classroom elements more timely and leaves the practical assessments to complete once entering the training clinic. 
We aim to train our students around their diary/availability to ensure whether you're a new technician, or running an active client base, that learning new skills compliments your current business goals and doesn't distract from your existing business objectives. 
Once you have purchased this course option a member of the team will be in touch to discuss next steps and booking your training course. 
If you require any further information or would like to speak to us before proceeding, please complete the below contact form and reference the course you're interested in.