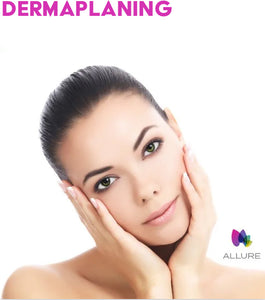 Designed to be a budget training version for active technicians not needing a starter kit just the essential items.
What is included:
Blade Handle
Blade Remover Box
Sample of Blades
Consultation & Aftercare forms
Student discount off future products & services
Why complete the Dermaplaning course?
Dermaplaning is a safe and simple treatment helping to exfoliate and the clear the skin of any fine hair (peach fuzz). Even though this treatment has been around for some time its been quoted as the "fastest growing facial treatment in the world."  
…even more reason to add this to your range of treatments you could offer to your client base. 
The treatment requires the use of a sterile surgical scalpel to gently shave the skin's surface and remove any dead skin and clear any fine hair, the treatment can take as little as 30 minutes and requires no post-treatment downtime giving the client the opportunity to make this a monthly routine. 
Our technicians find the reason for repeat business is that this treatment is a results driven facial, not only will your clients be able to see a visible difference, they will be able to feel it even after just one session.
 Due to Dermaplaning being a quick procedure it is fast becoming a favourite for technicians as they can build a monthly returning client base and deliver a very efficient facial treatment fit for all clients.
Our approach as a training school is a complete flexible training program for all our current and future students.
Why Choose Allure? 
To date we have trained 1000's of students and have received two awards for "Training Centre of Excellence" so you know you're in safe hands. 
Our training material has been written to provide the best experience for our students and we only use natural skincare products throughout our training. 
Our students start their training by completing the theory modules at home along with a home study test, this makes the classroom elements more timely and leaves the practical assessments to complete once entering the training clinic. 
We aim to train our students around their diary/availability to ensure whether you're a new technician, or running an active client base, that learning new skills compliments your current business goals and doesn't distract from your existing business objectives. 
Once you have purchased this course option a member of the team will be in touch to discuss next steps and booking your training course. 
If you require any further information or would like to speak to us before proceeding, please complete the below contact form and reference the course you're interested in.