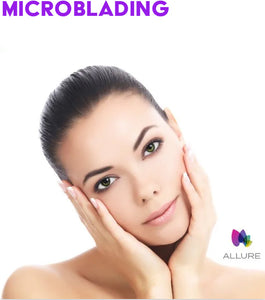 We train all our permanent makeup courses one 2 one as we feel with the complexity of the treatment tailored training material will ensure your success during the training course.
We also suggest spreading the training days out giving the student time to digest and practise the training modules, the drawing practise for example is very important & forms an important part of your future success and treatment technique. 
What's included:
All wholesale providers to purchase treatment materials at competitive prices – we do this to save the students money on the training course.
Pre-study and main course training manuals including drawing practise templates
Consultation & Aftercare forms
Ongoing aftercare support – call and talk to our training team for support and guidance
Student discount off future products & services
Why train in Microblading? 
We at Allure Beauty Group have built what we feel is the all round training program to give you not only the most up to date training techniques but all the support, guidance and experience we feel is needed to be successful when starting your own business in permanent makeup. 
What makes us different? 
When training with Allure Beauty Group you will receive the following as part of your training program: 
 - Pre-study Manual
 - Elite artist expertise & guidance
 - 3 day training program depending on your previous experience
 - Manual
 - Support, feedback & guidance throughout
 - Sign offs & certificates
 - Live demos and model practice
 - Case studies & practical sign off 
We don't include a starter kit with our Microblading courses as we prefer to direct our students to the best providers keeping the training cost down and efficient for the future.
Furthermore... 
With Allure Beauty Group your training doesn't stop there, we feel there are additional modules that are essential to your success. 
We feel the training is step 1 in your journey and there are other factors we will prepare your for, for example: 
 - Additional support and guidance outside the training hours
 - A full aftercare program - we will be there for your first treatment outside the classroom!
 - Client management - build and gain experience in managing your client base successfully
 - Business modules - Business growth, marketing, Social media, diary management
 - Advanced workshops - drawing practice, colour theory 
Through our experience these are the challenges most new technicians face when leaving the classroom which a standard training course won't prepare you for.
When could I train? 
This is what we feel is our best feature. 
We'll build the training around you! Yes we said it… evenings & weekends, we will build the training plan that suits you and your outside commitments. 
Everyone has commitments that are important to them and can restrict them when looking to start something new, we appreciate this and don't want this to be a reason why you don't take the next steps in your career. 
When you're thinking of change and investing in your future we take this seriously, so making sure the training course is right for you and fits round your needs is our number one commitment.